Korea Festival 2021 in NZ Schools Guide
한국교육원
0 720
2021.06.14 11:07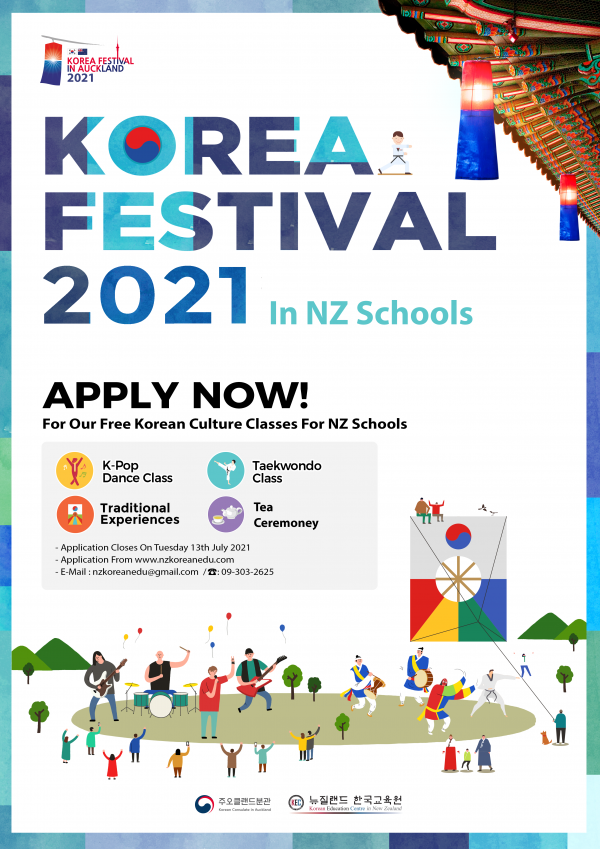 Korea Festival 2021 in NZ Schools Guide
APPLY NOW! - Korean Festival in 2021 in NZ School
New Zealand schools in Auckland (limited vacancies for other regions) have the opportunity to apply special
activities that increase students' knowledge and understanding of Korea.
The professional instructors will visit your school and run Korean cultural classes for your students.
The programme can be arranged in your regular timetable (e.g., Taekwondo as a PE and K-pop classes as a Dance class, etc.)
or also be organized as a holiday/after school programme and school club/extracurricular activities.
Welcome to apply!
The Korean government covers all the costs, and the schools need to meet all the requirements (venues and facilities) and the number of participants.
TO APPLY
- Complete the application form and obtain signed approval from your principal.
- Scan and email to
nzkoreanedu@gmail.com
by Tuesday, 13 July 2021.
For more information, please find the attached information.