TaLK(Teach and Learn in Korea) - 25th Generation (2020)
한국교육원
0 1282
2020.03.12 07:56
+ 4
TaLK 25기 Prospectus Fall 2020 1.pdf (1.1M)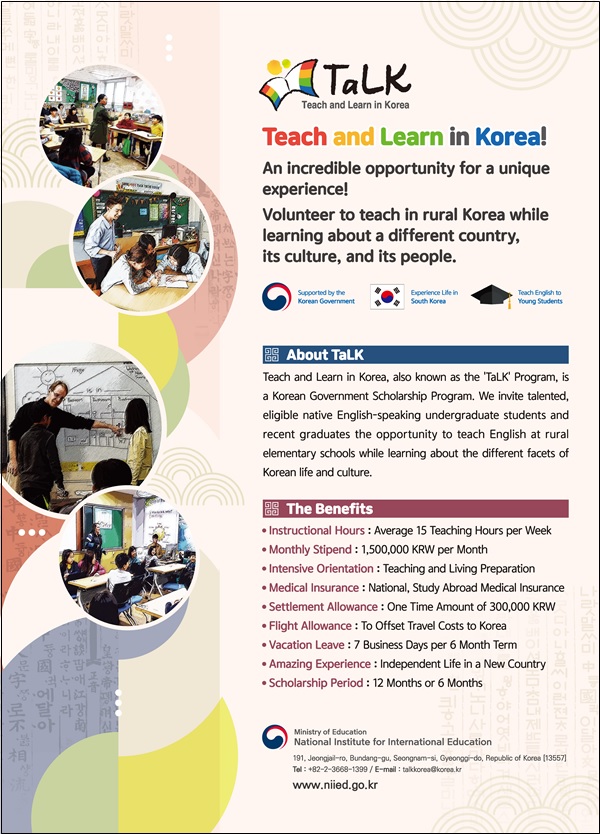 TaLK(Teach and Learn in Korea) - 25th Generation (2020)
Teach and Learn in Korea!
An Incredible opportunity to experience a new part of the world while giving back to a community that can use the expertise of
people like you: Talented, driven, volunteer-spirited individuals!
<About TaLK>
Teach and Learn in Korea, also Know as the 'TaLK' program, is a program which offers an international teaching internship. We invite talented, eligible native English-speaking undergraduate students and recent graduates the opportunity to teach English at rural elementary schools while learning about the different facets of Korean life and culture.
▪ (Scholarship Term) 6-month (2020.8.1 ~ 2021.1.31) or 12-month (2020.8.1~2021.7.31)
▪ (Eligibility) Native English speaker and citizen of the designated countries*
Associate's degree or enrolled in a Bachelor's degree program (3rd year or higher)
Overseas Koreans in their 1st or 2nd year of undergraduate study are eligible
(* New Zealand, Australia, Canada, Ireland, South Africa, USA, UK)
▪ (Application closes) 12th June 2020
▪ (How to apply) Online registration at
https://www.talk.go.kr/talk/talk_new/mypage/creat_account.jsp?site=eng
▪ (Inquiry) General: Korean Education Centre in New Zealand
nzkoreanedu@gmail.com
☎ : 09-303-2625
Technical Support about the TaLK website:
talkkorea@korea.kr
For more information about the programme, please find the link.
http://nzkorea.kkk24.kr/bbs/link.php?bo_table=sub05_2&wr_id=174&no=1
Thank you.